Tunic abaya for kids - Cape style
Brand: Haya Collections
Product Code: Girls Abaya-Haya-Collection-HC-K001
Availability: 8
Normal Price: Rs 2,000

Discount: Rs 600 (30%)

Our Price: Rs 1,400
Kids abaya online in India - Cape style girl's burqa in georgette and lycra fabric
Product details
This gorgeous abaya for girl kid has Black and White checkered cape like piece with bell sleeves which is worn over the kid's naqab and covers upto the waist region. From the waist portion, the abaya is umbrella cut and full flared. This kid's burqa can be called a tunic dress as well, since it looks more like a long frock with two parts making it suitable for parties, weddings or any Islamic gatherings be it Musturat Jamat or Taalim.
Highlights :
Fabric - Georgette + Interlock lycra
Length is from high point shoulder to desired length.
Dry clean or hand wash, both process can be applied to clean it.
Ironing can be done at low heat.
Customization, modifications is possible on request.
Brand- Haya Collections
Package content- 1 pieces [ Girl's Abaya/ Naqab ]
Disclaimer- Color of product may slightly vary depending upon the resolution of the device in which the image is viewed. Complimentary wrap scarf color will depend upon availability of stock.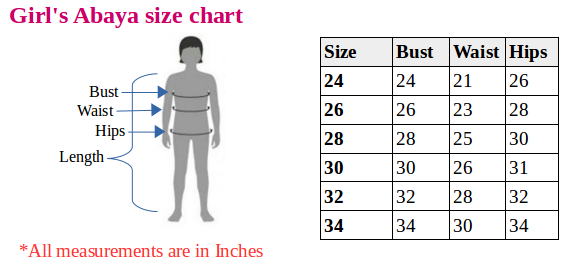 Cash on delivery as well as online payment for this designer cape style black umbrella abaya for kid's is available. Also free shipping to any part of India.
Product will be delivered within 5 to 10 working days from the date of placing the order.
Related Products
Tags: Girl's burqa, Girl's Abaya, Kid's burqa, Kid's abaya, Abaya for kids, Abaya for girls, abaya for girl kids, Haya Collections, Umbrella abaya for kids