Classic kaftan for kids
Brand: Haya Collections
Product Code: Girls Abaya-Haya-Collection-HC-K003
Availability: Out Of Stock
Normal Price: Rs 1,700

Discount: Rs 850 (50%)

Our Price: Rs 850
Kid's abaya online - Classic Rose colored kaftan for girls in interlock lycra fabric
Product details
Flaunt a simple yet elegant look for an upcoming social event or Islamic gathering by opting for this classic Rose colored kid's kaftan from the house of Haya Collections offered by Shiddat. This girl's abaya has black fitting cuffs on sleeves for easy movement. In today's modern era, where muslim mothers like to be in pardha in a modest yet trendy way, kids tend to follow suit. Search no more for modest apparels with the fashion twist elsewhere. Shiddat is the final stop for fashionable party wear kaftans/ abayas for girl kids. This elegant girl's kaftan in lycra fabric is definitely going to astonish every eye which witness your kid wearing it.
Highlights :
Fabric - Interlock lycra
Length is from high point shoulder to desired length.
Dry clean or hand wash, both process can be applied to clean it.
Ironing can be done at low heat.
Customization, modifications is possible on request.
Brand- Haya Collections
Package content- 1 piece [ Girl's kaftan/ abaya ]
Disclaimer- Color of product may slightly vary depending upon the resolution of the device in which the image is viewed. Complimentary wrap hijab color will depend upon availability of stock.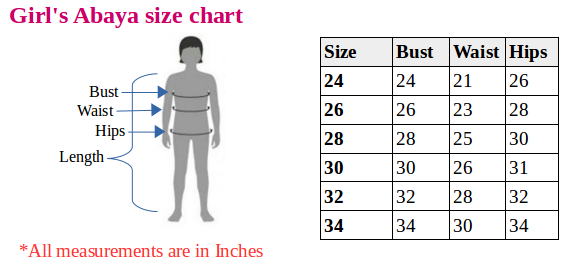 Cash on delivery as well as online payment for this party wear girl kid's kaftan is available. Also free shipping to any part of India.
Product will be delivered within 5 to 10 working days from the date of placing the order.
Tags: Girl's burqa, Girl's Abaya, Girl's Kaftan, Haya Collections, Kid's kaftan, Girl's kaftan, Girl kid's kaftan